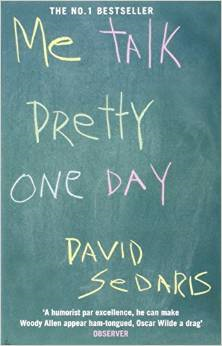 Me Talk Pretty One Day
Education
Gardners Books
2002-01
272

Me Talk Pretty One Day is a collection of 27 anecdotes from American humorist David Sedaris.
Reading Sedaris' writing is like listening to an old friend recite hilarious episodes from their life. Indeed this is what Sedaris does; he tells stories of his childhood, family, relationships, career and friends, each chapter in this collection relating a different entertaining experience.
Many of the stories floated back to me weeks after reading, leaving me wondering whether I had read a particular tale or had heard it from some odd associate. Odd, in that these stories are like many of the ones we pull out of our own coffers, quite unusual. There is the midget guitar teacher with a lusty interest in the opposite sex, the sister with a penchant for dressing up who wears the bottom half (only!) of a fat suit home for Thanksgiving to persecute their father, the French class trying to explain the concept of Easter to a Moroccan Muslim ("It is a party for the little boy of God"), stories of boyhood dreams of performing a one-man show as Billie Holiday singing commercial jingles, his foulmouthed brother 'the rooster', their father trying to put together a jazz band from his decidedly disinterested offspring, commentaries on IQ tests, day-dreaming (I particularly liked the idea of making a jacket for his clock radio) conceptual art, speech therapy, learning a foreign language and furniture removal.
Sedaris is famous in America as not only an autobiographical humorist in print but also radio, where he first became known. Some of these essays actually appeared in Esquire and The New Yorker before being put together in book form. Indeed each essay has the chatty form of a newspaper column, not being pure narratives but including opinions, notions and divulgences. There is an overriding geniality to Sedaris' writing, even when discussing topics such as drug abuse Sedaris is frothy and funny, not undermining such issues but being able to laugh at aspects of it through ownership of the experience.
I read this collection in between academic research – it was the perfect light interlude and a good giggle. Me Talk Pretty One Day is an effortless and enjoyable read. If you're not an avid reader (the chapters are pretty short and self-contained so you can read one on the bus or over a long time period), want a break from your usual reading or just need cheering up this is the one for you.
Yes, we all have funny stories to tell, only maybe Sedaris does it better.
March 2005