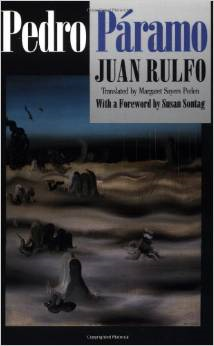 Pedro Páramo
Classics, Cult
1994
124

Meeting: Wednesday 7th October 2003
It has taken me some time to write the review of Pedro Paramo, and I still don't know what to say. At this stage I can only be brief but feel this book deserves a couple of re-reads.
Juan Preciado, promises his dying mother that he will search for his father, Pedro Paramo. He then embarks on a journey to find the town of Comala, somewhere in southern Mexico.
That is pretty much where the surreal and haunting experiences begin and where my understanding of events falters. What follows is a mix of the past tense and the present tense, of the voices of the living and those of the dead. Juan had been warned by his mother that he would hear the voices of her memories stronger than the voice of her death once he found Comala. (If only it were that simple ! )
What follows is simply mystifying and one must read it for oneself. A beautiful, terrifying and haunting book that I would highly recommend for any book-club if you enjoy debate, or if you enjoy reading a well written masterpiece.
3/5
Score awarded by Bibliofemme: 3.6 out of 5
What the other femmes had to say

"Rulfo's characters emerge gradually from a landscape of death and decay, as his tale offers testament to the enduring integrity of the human soul." 4/5
"Confusingly brilliant, bear with it, read it twice if you want to and try not to understand it just go with it." 4/5
"An existential quicksand of loss, memory and illusion. Frustrating and original in equal terms" 3/5
"Only for this being a bookclub book I may not have finished it – but I'm very glad I did. Powerfully evocative and full of lingering ideas and images." 4/5
"A fractured landscape of whispered histories. A new experience in reading – let yourself go, and ride on the dusty breeze." 4/5
"Although Pedro still has me guessing, both the beautiful and haunting imagery and the clicking of the puzzling plot was more than enough to keep me going." 3/5