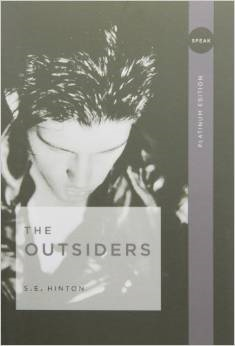 The Outsiders
Classics, Cult
Puffin HC
2002-06-27
218

Meeting: Friday 28th November 2002
I watched this film a thousand times as a teenager and had many a daydream that involved Ponyboy Curtis. So when it was my turn to pick a book it was an obvious choice. Written by S E Hinton when she was only 16, that knowledge in itself was enough to make me wonder at the abilities of others.
The Outsiders was written in 1967 and describes the world of Greasers and Socs. A soc (short for "social") has money, can get away with just about anything, and has an attitude longer than a limousine. A greaser, on the other hand, always lives on the outside and needs to watch his back.
Ponyboy is a greaser, and he's always been proud of it, even willing to rumble against a gang of socs for the sake of his fellow greasers–until one terrible night when his friend Johnny kills a soc. The murder gets under Ponyboy's skin, causing his world to crumble and teaching him that pain feels the same whether a soc or a greaser.
I enjoyed the book greatly, it is quite obvious that the author was very young, emphasising eye colour etc, and although some of the bookclub members thought that was amusing, overall it was well received. A recommended read.
4/5
Score awarded by Bibliofemme: 3.7 out of 5
Awards
New York Herald Tribune Best Teenage Books List, 1967
Chicago Tribune Book World Spring Book Festival Honor Book, 1967
Media and Methods Maxi Award, 1975
ALA Best Young Adult Books, 1975
Massachusetts Children's Book Award, 1979
What the other femmes had to say

"An insightful, moving and descriptive story about a youngster's view of his world." 4/5
"A stunning debut from the teenaged Hinton with vividly realised characters." 4/5
"Great to read a book that is so much of its time and also aimed at a younger audience. Enjoyed it, but wouldn't go back to it." 3/5
"A heart-rending read full of characters that jump off the page. Still packs an emotional punch after all this time." 4/5
"Highly enjoyable lightweight novel with moral overtones" 3/5
"Enjoyable new genre "chick lit". 2 stories in 250 pages with comparisons drawn between an historical story and contemporary life. Perhaps not fully developed but an easy read." 4/5