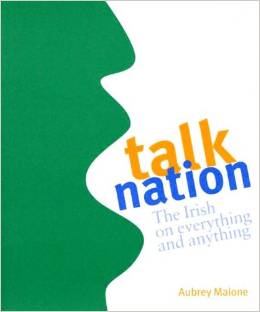 Talk Nation
Irish

I picked up this little collection of quotes in a bookshop and flicking through landed on Fiona Looney's name. I have always enjoyed her humour-laden newspaper columns and her haphazard but oddly compelling contributions to Gerry Ryan's show on 2FM. I have to admit she is the main reason I bought it, her quote caught my eye in the section On Parents and Children:
"Being a mother sometimes means doing things you don't like. While changing a nappy once, I ended up with poo in my mouth. Don't ask me how."
I knew immediately this was no ordinary book of quotes…
Glancing down the same page there were pearls of wisdom from Irish broadcasting icon Gay Byrne ("My wife and myself are getting closer every day: we have to, we're afraid of the kids!"), comic Graham Norton ("As my mother always said to me, a problem shared is… gossip!), and the unapologetically self-absorbed chanteuse Sinéad O'Connor ("When my mother died, I made a conscious decision to smoke myself to death"). It's the kind of book that you pick up to fill an idle moment and find yourself still reading twenty minutes later, so sensing the store detective beginning to take an interest in me I bought it and took it home!
Chapters are divided by subject and there is an alphabetical index by surname of all persons quoted, but the main problem with it is that neither the quotee's occupation or the origin or date of the quote is noted anywhere.
Occasionally the context is indicated: so we get "Mike Murphy on the night he almost killed his father", but no information for those (particularly non-Irish or younger generation readers) who might have no idea who the one-time TV and radio broadcaster, now property dealer, is. Mike Murphy is hardly an obscure persona, but there were lots of credits I couldn't place. That said, most of these are Irish household names: from Bono to Maeve Binchy, Shane McGowan to James Joyce and a whole host of contemporary media figures and politicians.
Padraig Flynn "We can cope with ordinary emergencies" and Taoiseach Bertie Ahern "Cynics may point to the past, but we live in the future", are always good for a giggle, and most of the quotes have been selected for laughs.
There are a couple of more meditative thoughts, including some from a childhood icon, Pat Ingoldsby: "You can start changing the world with a biro and the back of a bus ticket"; and former Irish president Mary Robinson: "Don't learn the rules. Then they can't accuse you of breaking them."
There are also a couple of people who don't count as Irish (Welsh-born Paula Yates on Bob Geldof, Manchester born Noel Gallagher on Elton John), and the book is rendered fairly useless as a research tool by the lack of sources. But it is a highly readable and enjoyable little book and it will have you spouting quotes at everyone you meet!
June 2005