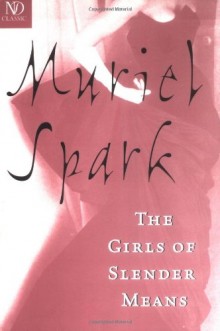 The Girls of Slender Means
Penguin
144

Like the follow up to the girls of St Trinian's or some other girls' boarding school tale, the girls of the May of Teck Club live in a cosy world of dress-sharing, squeezing out windows and entertaining suitors.
The May of Teck Club is not a school society but a hostel existing for the "pecuniary convenience and social protection of ladies of slender means". There is as, one would expect, the usual characters – the great beauty, the pious Rector's daughter and the intelligent (and therefore not so beautiful) girl with a job. It is witty and humorous – the banter between the girls, glimpses into wartime living (the scarcity of makeup and clothing) and fraudulent money-making schemes.
But this is not merely a story of girlish glee and uproar. Set in post-war Britain there is always the threat of something darker. One can see through the giddiness, frivolities, poetry and courting as being not thoughtless in manner but as necessary; necessary in keeping one's chin up and finding your way through times that are fraught and uncertain.
Although the May of Teck Club exists for ladies "below the age of thirty years", three spinsters in their fifties continue to reside at the club. Having remained there throughout the war and stayed "upright with the house till the end", they serve as a personification of the possible fates of the younger girls of the club and of the status of women. This is largely due to the war – the shortage of young men, the opening up of work and careers but narrowing marriage prospects – The club also has a customary "mad girl" who is in this case genuinely disturbed. She would "dress carefully on certain evenings…on these evenings she said she was going to dine with the famous actor Jack Buchanan. No one disbelieved her outright, and her madness was undetected."
Throughout the book we can see seemingly superficial behaviour used as coping mechanisms, giving the story a two-sided appeal. There are the blithe antics of the girls to enjoy, but it also gives a glimpse into the psychological wounding of civilians in wartime.
The end is not the tea party or jolly picnic of dormitory tales but the harsh invasion of reality in the form of consequences, death and destruction. The May of Teck Club is lost forever and the girls left without its shelter both physically and psychologically. This is felt beyond the girls themselves, as if a buttress has been removed from the lives of those whom the Club has touched.
This is a short novel at 142 pages and it would serve as a perfect travelling companion; both entertaining and insightful.
October 2004