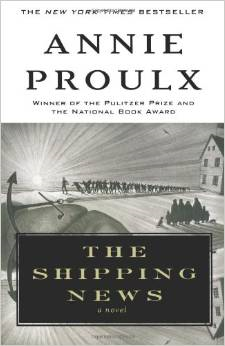 The Shipping News
Classics
Simon and Schuster
1994-06-01
337

Meeting: Friday 8th February 2002
For my first bookclub book, I chose 'The Shipping News' because it was one of those books that I'd always wanted to read and never got around to. Published in 1993, I took a chance and hoped that no one else had read it (even though it was well known and had scooped up literary prizes aplenty). Luck was with me and only 'The Techie' had read it.
E. Annie Proulx's literary tale spans the bleak and inhospitable coastline of a Newfoundland adept at hiding the past. Quoyle, the book's likeable anti-hero relocates his family to the wilds of the Canadian coast and sets in place a new momentum of living. Here, his passive existence is changed by his encounters with the colourful townsfolk; but for all the camaraderie, dark, ancestral secrets lurk everywhere.
This book is a real treat – Proulx's descriptions capture everyday things in a way very few writers can. The story is as intricately woven as the knots that symbolise the chapter headings. It's difficult not to get wrapped up in the lives of her thoroughly enjoyable characters. I particularly loved the personification of the windswept landscape, which Proulx brings to life as a palpable character in itself. Not for the faint-hearted, this is quite a dense, literary tome and is definitely a real "reader's" book. Dive in – it's worth it.
5/5
Score awarded by Bibliofemme: 4.2 out of 5
Awards
1994 Pulitzer Prize
1993 The National Book Award (Fiction)
What the other femmes had to say

"Found it impossible to get into and never managed to finish the damn book!"
"Had to wade uncomfortably through the dense prose at times, but there are enough well-drawn characters for this to deserve a place on the shelf." 3/5
"A wordy, windswept story to lose yourself in. Excellent and highly recommended." 5/5
"A good read, a bit bland at times but all in all captivating." 3/5
"Proux had the ability to take me to Newfoundland, but I found her writing style to be tedious."
"Wonderfully wrought descriptions of characters, community and landscape. Proux's writing style is fresh and distinctive. I immediately went out and bought several books by her. I was not disappointed." 5/5