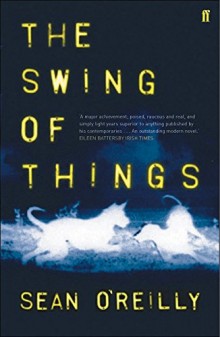 The Swing of Things
Fiction, Irish
Jan 1 2005
302

Sean O'Reilly's first novel, Love and Sleep, made it on to the Irish Times' list of the 50 Greatest Irish Novels, alongside such luminaries as Samuel Beckett, James Joyce and Patrick Kavanagh, while Curfew and Other Stories, his short story collection, was acclaimed by writers including Patrick McCabe, Colum McCann and Seamus Deane.
The Swing of Things, his latest novel, focuses on Noel Boyle, a man haunted by his past in Northern Ireland, and hanger-on Fada, a street performer and drifter with a talent for trouble.
Boyd is trying to start over, amidst a Dublin of late-night call shops, Russian gangsters and a bohemian student life in which he doesn't quite belong. Having served time for paramilitary activities, he is wary, on edge and hungry for something he can't quite name. His ex-jailbird's eye for the strangeness of the outside world gives him a sense of heightened reality – he sees a different Dublin to that of the American tourists and innocent young humanities students around him.
O'Reilly's dense language describes the alienated misfits, dreamers and losers who seek oblivion in pubs, parks and bedsits of a resolutely 21st century Dublin. O'Reilly's portrait of two lost men and the city they inhabit is uncompromisingly existentialist, angry and (sometimes) bleakly humorous. He vividly describes the rank and often vicious underbelly of post-Celtic Tiger, dirty-aul'-town Dublin, evoking impressions, images, sounds and smells of the modern day city.
While it's easy to admire The Swing of Things, it is not a book that is particularly likeable or enjoyable. O'Reilly is a good writer – he just enjoys wallowing in darkness that bit too much to capture my attention. Stylish but hollow.
May 2004