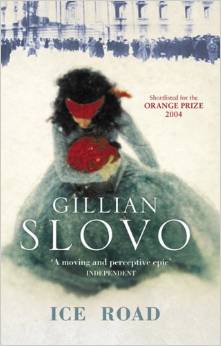 Ice Road
Historical Fiction
Virago Press
2005
544

Ice Road is a chilling and desperate story. Based in Leningrad during Stalin's reign, Gillian Slovo uses a humble cleaner, Irina Davydovna, as her central character. Russia was never an easy place to live but, during Stalin's rule and with the onslaught of World War II around the corner, it could only get worse.
Irina, though only a humble cleaner, is proud of her status as a 'worker' and observes everything. She sees and understands Boris Aleksandrovich, a party man trying to juggle his loyalty to Stalin and his party's idealism, while his beautiful daughter, the free-spirited Natahsa, is desperately in love with Koyla, a mere factory worker. Boris' best friend, Anton Antonovich, is an eccentric history professor in the local university, terrified of being turned out to pasture. Then there's also Dmitry Fedorvich, the sinister party member who covets Natasha, and American entrepreneur Jack Brandon, who also covets Natasha, but wants to save her as opposed to owning her. These lives are inextricably linked as the events of Leningrad in the late 1930s unfold.
The weather is key to the story. Slovo's clever use of the chill of Soviet winter becomes bound with the terror of Stalin's reign. The seasons change and the flowers blossoming in early spring mirrors the advancement of the characters in the book, until the weather is playing as central a role in this story as Irina herself.
Slovo has written this book using the first person, which allows the reader an in-depth look into the minds of each of the characters. The book takes the reader through the gamut of emotions as the momentous events of Russia's modern history develop – the Bolshevik Revolution, the purges and the Nazi invasion of the Soviet Union.
Ice Road can be seen as two stories – one is the chilling and terrible journey that the Russians have traveled, or Ice Road can be perceived as the last escape route out of besieged Leningrad across the frozen Lake Lagoda. Whichever way you decide to interpret the title of this book, it is a fantastic read. I am not in the least bit surprised that it was shortlisted for the 2004 Orange Prize for fiction. I am only surprised it did not win.
Ice Road was shortlisted for the Orange Prize for Fiction in 2004
April 2005