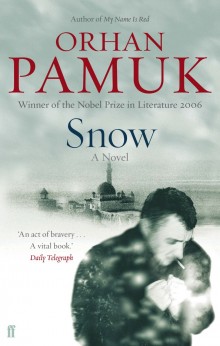 Snow
Historical fiction
Faber & Faber
2005
436

A native of Istanbul, Orhan Pamuk abandoned his architecture studies to write his first book, but struggled to find a publisher. That was over twenty-five years and eight books ago. He is now Turkey's best-selling novelist, one of Europe's most prominent writers and his work has been translated into languages across the globe. Last year, his novel My Name is Red won the International IMPAC Dublin Literary Award, topping a shortlist that included John McGahern and Jonathan Franzen.
His new novel, Snow, is a serious, multi-layered political fable set during the early Nineties in the snow-bound Turkish city of Kars. Located on the Turkish-Armenian border, it is the poorest city in the land and Islamic fundamentalism is on the rise. The central character, Ka, is a Turkish poet who has lived in Frankfurt for 12 years. Back in Turkey for his mother's funeral, he is commissioned by a newspaper to write a piece about curious events in the remote city. He travels to Kars under the guise of a journalist to investigate why young women, fervent Islamists, have committed suicide rather than divest themselves of the headscarves that cover their hair.
While he is there Kars gets cut off from the outside world by a blizzard for three long and eventful days. This snowy, dreamy landscape will become the stage for the strangest drama performed, a drama that will change Ka's life forever – and yet not change it at all.
Snow is not an easy read and would, perhaps, make more sense to readers with an in-depth knowledge of Turkish history. It ranges from the personal – Ka's search for love and the re-emergence of his muse – to the murderous political coup that takes place in Kars without, for this reader, ever fully engaging with either. Maybe this can be put down to an awkward translation but it makes the book difficult to get involved in. Hard to persevere with but, just about, worth it.
June 2004