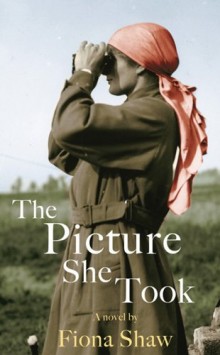 The Picture She Took
Historical Fiction
Virago Press
2005
344

Set in England, Belgium and Ireland in the aftermath of World War I, The Picture She Took is a love story uncomfortably pinned onto a reasonably well-drawn historical canvas. Beginning in England in the 1920s, it slowly brings together Daniel, a man mentally, physically and emotionally broken by time spent fighting with the Black and Tans, and Jude, a motorbike-riding, camera-toting independent spirit who spent WWI nursing in a bombed-out Belgian village on the Western front.
On a chance visit to an exhibition, amputee Daniel sees a photograph that triggers a memory. He sets out to find its taker, tracing the photo to Jude. Despite their loner tendencies, both discover a kind of kindred spirit in each other, and when Daniel leaves for Ireland to seek the identity of the British officer, turned IRA activist, in the photo, Jude is hot on his tracks. This leads them both somewhat improbably, to the site of Daniel's involvement in a Black and Tan atrocity there. This is the place, of course, where both can come to terms with their horrific pasts and admit their love.
To me the romance element felt tagged on at the end; it didn't sit well with the rest of the writing. Despite gradually unfolding background information on Daniel's difficult relationship with his parents and his dead brother, he remains a somewhat wooden character. Jude is a peculiarly 21st century kind of gal for 1920s England, but when the book backtracks to her life at the front it is at its best.
The idea of the photograph and its role in creating and maintaining memory is a fascinating one, but I didn't feel this book used the concept as the powerful subtext as it could have been. There are some interesting visual moments, like the blurred image of a photograph of Jude's dead fiancé, renamed Mr Icarus by her niece and nephew, jumping from a sun-drenched rock, but beyond that I was left with little lasting food for thought.
In the end, it's a fairly morose read about the disturbing aftermath of war, which ties up all too nicely. As Daniel and Jude return on the boat to England, the book's final words oddly echoed my ultimate impression of it: "And she thought perhaps it was too easy an end, or beginning. But then that was how they often were." I'm all for open-endings, but this one felt like a bit of a cop-out to me.
February 2006